March 09, 2020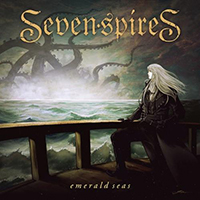 Symphonic inspiration, with oriental folklore in the background, appears as the introduction to Igne Defendit, setting the mood for the Seven Spires - Emerald Seas album's keynote, continuing in the musical essence of the Ghost Of A Dream composition, overpaying with musical lace vocal reflections. At first, anxious, but then bringing the charming tunes of female vocals to the forefront No Words Exchanged captivates the listener with romantic urges. But then Every Crest combines melody together with swiftness, enveloping it with symphonic outlines. Inspirational Unmapped Darkness vocals tunes begin, then varying the vocal pitch and variations of male and female vocals - it should be noted the bitterness of female vocals, which sounded more interesting than the rest in this vocals. A seductive whirlwind of mesmerizing music takes Succumb on an inspirational flight.
The Drowner Of Worlds symphony is intertwined with twilight mystery in the musical narrative, complementing musical variations with vocal phrases, starting with the creaky screaming of female vocals. A bewitching Silvery Moon symphony continues the musical narrative with inspired grandeur. Bury You softly and charmingly continuing the previous composition and embodying the album's leitmotif, wrapping vocal phrases with soft covers of musical tenderness.
The stern march Fearless builds up the rage and charm of the melodic component, weaving together the rhythmic pulsations, vocal screaming and the enchanting echoes of a symphonic essence. Beginning With Love From The Other Side as the gentle ballad, The Trouble With Eternal Life female vocals captivate with enchanting tunes, continuing fairy tales with enchanting tunes and ending the album with the Emerald Seas title track.