February 16, 2019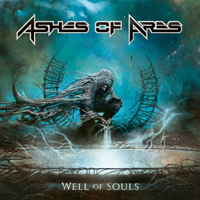 The majestic symphony begins Ashes Of Ares - Well Of Souls album with orchestral musical charms, then, after an intriguing musical trend, a furious drive anticipates Consuming The Mana harsh march with vocal chants. With the introduction of vocals in the rhythm of the song, the influence of progressive phenomena arises.
The introduction shrouds the mind in a haze of mysterious romance, the vocals in the introduction are wrapped in enchanting melodies, then the pulsating mid-tempered march sets the intrigue, elevating the main charm of The Alien composition in the chorus.
The fascinating haze of the Unworthy intro ends with a confident pulsating march of the instrumental bridge that is anticipating severe marching verse. In the chorus, vocals bring emotional experiences to the transcendental level. A captivating guitar solo crowns these experiences with a sparkling melody. Romantic experiences continues in the charming sound of the Soul Searcher ballad.
The furious drive of the intro and verse sweeps the resistance from the path, but then the vocals transform the sound of the composition into an epic narrative, creating the Sun Dragon epic canvas of the embodiment of ancient legends.
The majestic symphony entry envelops a fog of fairy-tale ghosts hovering around in obscure shadows. Then the Transcending mid-tempo foreshadowing of fairy tales and legends rises from non-existence by an emotional vocal narration. Soft and fascinating melodies of the Let All Despair ballad envelops with enchanting twilight of obscure temptation.
The gloomy wave of mystical omens rolls in an obscure haze of prophecy, then the In The Darkness music is transformed into a pulsating march of the verse, interlacing the main part of harsh vocals with epic background tones. The fantastic canvas of the Spirit Of Man composition begins with an epic narration, then transformed into a sensual, romantic ballad, then enveloping the vocal with an epic twilight of fairy tales and sacraments. Time Traveler continues the epic narration, pumping up a wave of drive, but remaining on the verge of average tempo, returning from time to time to the ballad, but flying away in a rapid flow of drive, accelerating the musical narration. Concluding the epic narrative, The God Of War appears in the form of a gloomy, full of dark triumph, anthem, that is twisting between a gloomy narration and a captivating sound of a majestic ballad.
Paying tribute and praise to legends You Know My Name (Chris Cornell cover) completes the album with a haze of pensive romance.