May 20, 2018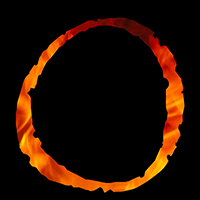 The mysterious sigh of an obscure element anticipates the gloomy fears embodied in the violent growling and the wave of drive, interrupted by the clean vocals epic wanderings. This alternation is manifesting in most of the Omethi - Drown In Sacred Waterfalls album's compositions.
The dark wave of a pulsating march enveloped in the shimmering mysterious melodies continues the combination of epic and drive I Bid Farewell, clean vocal in a muted whisper encourages meaningful growling vocals passages, preparing for his majestic legend, the end of which is guarded by the guarding guard.
Ancient bardic sagas are combined with enchanted melodies, creating a worthy and grandiose musical artwork of the Walk This Earth song.
The acoustic chime ends with violent demonic screams, a shrouded whirlwind of dark melodic passages, culminating in the sensual romance of clean vocals, calmly and wisely crowning the Grand Illusion composition with dreamy meditations.
Brave heroes begins the battle with the world's evil, singing their war songs in the harsh and growling vocal styles, in bright adventures achieving fame and fame are honored with clean vocals, based their chanting at the triumph of fairy-tale music. The wave of drive raises a bright melody into the riot of colors, warming Only for Tonight glittering structure in the sunlight, the screaming and growling combine first in the vocal part, then romanticism introduces the fabulous clean vocals phrases.
A tranquil chime of strings returns to a cozy manor, enveloping the familiar atmosphere of childhood, then the violent vocal howl of an angry growling brings a wave of darkness and danger to the Dwelling on a Distant Past track, but pure vocal returns peace and tranquility on the wings of a bright, inspired drive. Like a Slave as if continuing the previous composition, supplementing the clean vocals with anxiety and nervousness, but the growling bordering on the harsh sounds reassuringly.
Well of Pain begins the final part of the album, composing the sound from the parts, beginning with inspired dreams and pure vocals, concluding with a fierce result with screaming growling. The title track Drown in Sacred Waterfalls continues this tale, setting aside rigidity and fury, bringing dreams and thoughts to the forefront of the musical image, supporting them with a harsh vocals. In the same melodic manner, End of the Line manifests true hit, combining drive, tear and melody in a charming composition in equal proportions, pulsating violently in bridges and verses and pensively climbing into the clouds of dreams in the chorus. The incredibly melodious passage with a brief fragment flashes into the Broken introduction, then in the same alloy as the previous composition with somewhat more driving influence and more dense rhythm completing the final tale and the whole album.