May 21, 2020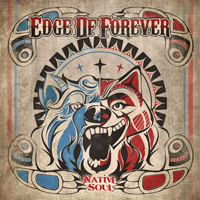 The vocal monologue of Three Rivers song opens the way for promoting the music of the Edge Of Forever - Native Soul album, continuing the musical narration of the title track, leading leisurely reflections in verses and curling up with a whirlwind of inspired artistry in the chorus. The guitar solo of the instrumental part brings a brief breath of inspiration. Weaving keyboard and guitar passages Promised Land in the artistry of the introduction, then crowns this motive with the vocal part.
The ticking clock in the Carry On introduction anticipates disturbing expectations, but the vocal part brings encouraging thoughts. The Take Your Time is marching on an inspiring march of encouraging appeals, developing banners of hope over themselves. Manifesting the musical essence immediately, Dying Sun then removes it with a vocal narrative background, weaving them together in a chorus in a single dance, emphasizing the name with vocal phrases.
Delicate vocal tunes develop into the sound of the Shine romantic ballad. Mid-tempo musical passages weaving artistic lace from guitar riffs and a keyboard symphony elevate emotional vocal phrases to the top of the I Made Myself What I Am musical image. In the instrumental part, the artistry of guitar and keyboard solos alternates. War marching mid-tempo procession of a harsh march.
Curling a mesmerizing whirlwind of keyboard passages Wash Your Sins Away then combines musical charm with vocal inspiration. The mystical puzzles of distant tunes culminate in a procession of the Ride with the Wind rhythmic pulsating march, completing the album with the unity of epic and memories of adventures, highlighting the bass part in accompaniment.