October 17, 2021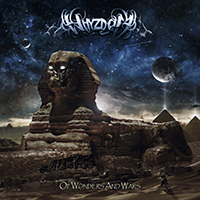 The musical fairy tale of the Wanderers and Dreamers song begins the musical narration of the Whyzdom - Of Wonders and Wars album, inspired and confidently marching a solemn processing. The Child of Damnation composition speeds up the musical pace with notes of a restrained drive. The pensive sound of the Stonehenge epic saga gives tribute to the ancient building, which druids with centuries use for their rituals. The Ariadne musical tale appeals to an even more ancient legend.
After the intriguing accession, the Touch the Sky will push the vocal batch to the forefront of the musical image that the War song does immediately. Then the militant atmosphere, topped with an opera vocal of a singing lady appears to sound.
Then in the music of the Metropolis Lights composition, there are extensions of a futuristic atmosphere. The Pyramids song is returned to the memoirs of ancient buildings, which were attributed to magical properties and ritual significance. The Final Collapse gives the sound of an album an anxiety atmosphere, bringing the vocal party the mood of readiness for any trials. The Notre Dame song completes the album of stories dedicated to the legendary temple of Paris.