November 19, 2018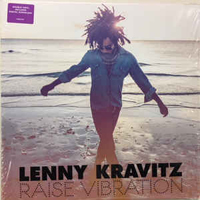 Sublime organ passages create the brooding atmosphere of the first composition of the Lenny Kravitz - Raise Vibration album, then the vocals complement their thoughts, then passing through the trends of church tunes, but then We Can Get It All Together song emphasizes its name again and again.
Emotions and feelings of the vocal part are shrouded in doubts, thoughtfully indulging in a slight sadness. But in theLow chorus, the vocals raise the mood in readiness to meet any tests, without giving up.
Pulsating in an obscure mist of Who Really Are The Monsters? intro, the vocals complement the itchy background and the hazy dusk of mysterious music with muffled phrases, then returning to the way home from the discos of the 80s.
Slowly beginning, as vocal reflections, supplemented by guitar passages, the title composition Raise Vibration is transformed into a very hit unity of blues motifs and the trends of modern sound. Unexpectedly, folklore tunes appear that complete the composition.
Art rock notes are intertwined with the style of country music, vocal history heralds dreams in which Johnny Cash embraces when the singer lost his mother to hold him tight the rest of his life. The thoughtful atmosphere of pacified romanticism envelops in a gentle and brooding ballad. Here To Love softly and fascinatingly complements the romantic component of the album, giving the gentle passages of the piano an even more charming sound of vocal revelations.
Shooting a pulsating sound in the It's Enough! intro, the music is then transformed into a pulsating ballad, the final parts of this song ... like somone is opening a soda bottle.
Waves of inspired drive give the vocal part inspiration of enthusiastic freedom, although the vocal tries to keep discreet thoughtfulness because of the expectations, but the 5 More Days 'til Summer music calls for entertainment and fun. The girlish yelling, counting the number of days until summer, precedes the final chorus of the composition
The music is in the lounge spaces, the vocals dominate in the composition, again and again indicating that it is looking for The Majesty Of Love, is in search and will not retreat from its desire in no case. In the middle of the composition, the charming saxophone solo is fascinating, complementing the sound with echoes of unforgettable dixieland's performances.
The vocal melodies at the beginning of the Gold Dust composition remind an unforgettable soul music, further developing this style, complementing the vocal revelations with a fascinating musical atmosphere.
Romantic keyboard passages are intertwined with the brooding part of the bass guitar and twist around vocal reflections, combining in the peace of sensual and charming Ride ballad. Mysteriously pulsating sound of the final album's composition I'll Always Be Inside Your Soul is combined with the lyrics, as if continuing the previous composition. Vocal phrases are shrouded in the enchantment of the charming musical passages.