April 10, 2022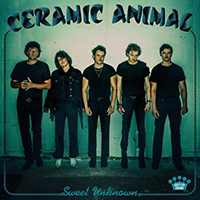 Playfully and joyfully, the Tangled song begins the musical narrative of the Ceramic Animal - Sweet Unknown album with a dreamy inspiration. The I Can't Wait composition begins with impatient musical passages, eclipsed in single vortices with mysterious vocal announcements.
The pensive mystery of the I Love A Stranger song fascinates with the vagueness of the riddles and draws you to the search for their solutions with vocal confessions.
Romantically fascinates the soothing and calm sound of the Long Day ballad, enveloping calm and dreamy vocal phrases with soft covers of melodic musical variations, bringing the vocals to the forefront of the Forever Song mysterious musical story and complementing the album's musical charm with the mesmerizing sound of the Sweet Unknown title track.
The sound of the Up In Smoke song captivates in mysterious wanderings through the haze of obscure omens. In the sound of the Private Dancer composition, the intriguing atmosphere of the couplets with the rebellious ascensions of the choruses is blacked out.
The I Don't Wanna Wait song after the introduction brings the vocal part to the forefront of the musical image, anticipating the vocals significance of the Valerie final composition of the album.