March 22, 2019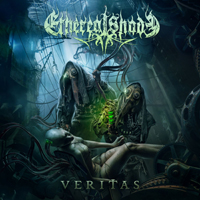 Inspiringly introducing the beginnings of the origins of rock"n"roll musical features, Inexpensive Pride (Part I) begins the Ethereal Shade - Veritas album with highly intriguing stylistic combinations - combining melodic blues musical motifs with relaxed vocal screaming, complementing them with keyboard symphonies in instrumental bridges Thoughtful romantic Brainwashing Machine (Part II) musical thoughts twist the interlacing of vocal stylistics of screaming and growling with mysterious symphonic dusk. Enchanting romance envelops the beginning of the The Simulation Of Life (Part III) composition with melodious trends, developing them further into the enchanting sound of the main motive, intertwining changeable vocal phrases in which the growling first comes to the forefront, then intertwined with screaming additions.
The title track Veritas continues the sound of the album, starting with the gloomy mystery of intriguing mystery, then continuing with the development of the fascinating vortex of the main motive. The composition ends with the rolling waves of an annoying drive.
The pensive musical beginning is intertwined with the emotional experiences of vocal phrases, intertwining into a fascinating musical image of The Chrysalis song, in which the brooding addition of female vocals is manifested. Inhaling the enchanted spirit of ritual inspiration Unfair Game then envelops you with enchanting whirlwinds of the main motive, covering vocal and guitar passages with fascinating keyboards.
The muffled phrases of the female voice call for romantic reflections of the Another Color Of The Skies gloomy ballad, then enveloping the inspirational whirlwind of fascinating motifs of vocal phrases, creating a lace mysterious symphony. But then the music is transformed into an inspirational mid-tempo drive.
Significant trends of the Konung song in vocal disputes, when the mainstream screaming complement the harsh growling phrases are shrouded in melodious passages of instrumental bridges and fascinatingly complete the album.