February 17, 2022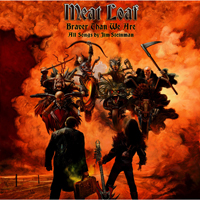 The Loaf - Braver Than We Are album opens in bizarre fashion. The Who Needs The Young is a track more suited to the opening of a circus than a bombastic rock album. The 11 minute plus Going All The Way Is Just The Start (a song in 6 movements) is everything I love about Jim epic songwriting. Had recorded it 10 years ago, I'm sure it could be another huge hit. All the required elements of a epic are here – pounding piano, ever changing tempos and bombastic overtures. It's a great song and my favourite of the album I guess, but only because the starring role is taken by vocalists Ellen Foley and Karla DeVito. Vocal parts sound labored and painful at times and even in a support role they detract from the female leads. And already we have a ballad in play – the sparse piano and acoustic guitar driven Speaking In Tongues is all about the vocals, but it's missing that big booming voice required to take it to any level worth remembering. The Loving You A Dirty Job (but somebody gotta do it) tries to lift it, features Stacy Michelle once again trying to mask how bad 's unsteady, barely in tune vocals are.
Another epic is up – Souvenirs kicks in with some subtle horns and then one of most soft vocals of the album. The Only When I Feel is one of those quirky short songs that's just a little left of centre and typically acts a circuit breaker on his albums. Then we dive straight into the completely over the top, hard rocking More track.
The Godz song is just completely bizarre, with a heavy, bombastic guitar sound, it's another interesting left turn from, sounds great in the context of the rest of this album. The Skull Of Your Country is another piano ballad with more female lead (this time featuring Cian Coey) morphing part of Total Eclipse Of The Heart with a new verse and chorus. Closing this album is the fast moving pop/rock Train Of Love, featuring so fine chorus.