March 25, 2022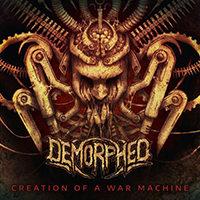 The I - The Brutish intro weaves a veil of mystery, continuing with the Demorphed - Creation Of A War Machine album's tough and insistent title track, which piles up waves of musical severity and dusky mystery.
The sound of dusky shadows encircles the solemn procession of the musical sound of the Arc Of Doom dark anthem, unhurriedly and majestically preparing an explosion of musical pressure. After an intriguing introduction with a mysterious musical hypostasis in the background, the Where Hell Dwells song brings the vocal part to the forefront.
The vocal frenzy calls for speeding up the musical race, weaving together screaming and growling in the Session In Insanity vocal part, brutalizing the rhythm and condensing the soundscape in the New Age Of Terror battle march.
Enveloping the vocal part with swirling guitar riffs, the Juggle Thy Flesh (Son Of Goran) musical tale charms the listener with its artistic unity of musical elements. The Downfall To Xibalba track rhythmically pummels the musical foundation for a meaningful and charismatic vocals narrative.
The mysterious II - Into The Deep intro prepares for the twilight mystery of the Drown epic saga, concluding the album with a breathtaking unity of music and vocals in an intertwining lace of musical mystery.