November 14, 2020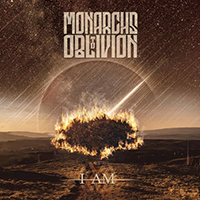 The sound of Darkness Falls composition elevates the vocal part to the top of the musical image, complementing the romantic ballad of vocal experiences with progressive variations of musical passages. The If Two song continues the Monarchs to Oblivion - I Am album alternating the pensiveness of vocal reflections with the broken drive of instrumental bridges, sometimes pumping up the expansion of the vocal part with guitar riffs, combining disturbing doubts and solemn epic vocal ascension. Keeping the supremacy of the vocal part in the musical image, the Fade continues and develops the alternation of pulsating marching drive and melodic romanticism, combining them in a single musical stream of the chorus.
Unrolling the enchanting musical canvas of mesmerizing ballad for vocal procession, the Blindside song combines melody and vocal inspiration into a single musical image. Bringing in some notes of hard blues influence, the Prophetic heats up a rhythmic pulsating march with vocal emotions in a progressive combination. The soft guitar solo of the My Will intro is then woven into a romantic waltz with a vocal part that complements the sound with notes of a vocal duet. But sometimes the music and vocals get hardened from a romantic ballad to a mid-tempo drive with emotional screaming. Twisting the whirlwind of drive guitar riffs of the Fallen Lion Living Hound music brings emotional animation, but maintains the mid-tempo rhythm, wrapping vocal phrases in vortexes of guitar passages.
The Haunting Me music wraps around with gentle notes of guitar passages the pensiveness of vocals reflections, combined in the atmosphere of a leisurely sensual ballad, sometimes soaring along with vocal phrases in a whirlwind of emotions. The 12Th Hour heightens the impatience of a pulsating drive, staying on the verge of mid-tempo sound, but elevating fierce emotions and twilight experiences at the forefront of the musical narrative. The guitar solos of the instrumental bridges soar in anxious impatience. The title track I Am ends the album, starting with a piano solo, then developing this melody into the musical canvas of a solemn anthem and inspirational artistry.