November 03, 2018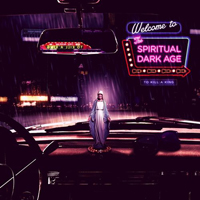 The title track starts To Kill A King - Spiritual Dark Age album discarding prejudices and conjectures, giving playful tones to dark eyelids and dispelling conjectures. "Believe? Memorize the number on the screen." The answer to the desire to believe in television preachers who promise cleansing from sins, the ascension of the soul and incredible divine grace (after replenishing their bank accounts), The Unspeakable Crimes Of Peter Popoff composition is fully discarding this kind of affairs.
The pulsating narrative and playful manner calls to the sound of the Compassion Is A German Word compositions to be given to dancing and entertainment, in the middle of the composition the sound is compacted, giving a more significant shade to the development of the festival.
Country music envelops the spirit of native lands, twisting the atmosphere of unforgettable home impressions - recalling Cherry Blossom Falls in the sound of this composition. No More Love Songs continues the style of country sound, transforming its sound into a slightly different theme and giving echoes of reggae. In the same style Oh Joy is a kind of romance, sharpened in a stream of concentrated experiences, concentrated on his thoughts and complemented by psychedelic influences. Sad tunes, filled with saddened impressions about the bygone days, which can not be returned, but how good were The Good Old Days that it is unforgettable and unique.
The One With The Jackals pays tribute and respect to the unforgettable masters of blues, jazz and lounge - memories of which will forever remain in our hearts. But the shade of country music remains, rising to the forefront of the musical image in the chorus. In the final part, popular music takes up its covers, Anticipating a playful continuation of the I Used To Work Here, Perhaps You Did Too? composition, in which the vocals builds up an amusing narration, built on the recollections of the past trials (in the pub, among friends).
The inspirational narrative of the brooding ballad develops in a verse, elevating My God & Your God title in the chorus in the rays of glory and sparkling reflections of undeniable promises.
Rejecting any doubts and questions Bar Fights develops a fascinating narrative, claiming the invincibility of promises and omens by the refrain. But brooding melody completes the composition, smoothly flowing into the intro of the last song And Yet... of album, a pensive symphony embodying impressions of adventures that call for rest, in which the romance and feelings captivate the mind, calling the appropriate satellite But after a brief pause, the composition is transformed, bringing the synth-pop spirit to the album.