July 07, 2021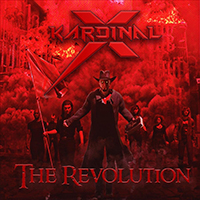 The ringing of the bell begins the musical narration of the Kardinal X - The Revolution album, then rolling the waves of the sound of the sound of the Cult Of XII song, causing vocal phrases on the crests of the waves of guitars riffs. Then the arranging composition begins with the Heretic melodic and soft ballad, then varying and transformation sound. The marching detachment sets the mood of the entry of the Rivers Of Blood song, continuing by the combination of vocal delimitation and melodic guitar passages.
Pensive intro ends with a vocal scream, anticipating the further development of the Dark Light musical composition that combines the mid-tempo march with emotional vocal appeals. The Plot after an acoustic guitar suspension of entry gradually turns the flywheel of musical severity, compathing and fierce sound. Again, soft guitar joining with thoughtful vocal handles, but then the sound becomes severe and more powerful. Particular attention should be paid to the Saint Agony instrumental chapter's guitars solo.
After soft vocals entries, the It Always Rains strongest vocal party in a dance with music with hard blues is charged with insurmountable perseverance. The There Goes The Neighbourhood song continues the blues effect on the musical narration, but more rejected on the influence of southern rock. The Scourge vocals part goes to the forefront of the musical canvas, subjugate the vocal phrases of all musical variations. The One More Trick song completes the album with a playful dance of music and vocal.