February 23, 2019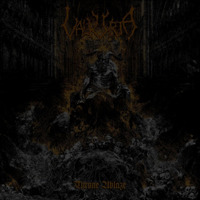 Omens of the In Ruins I Set My Throne intro of the main narration of the Valkyrja - Throne Ablaze album rise from the gloomy haze and ancient legends. A furious stream of drive and jerky vocal phrases rolling in unstoppable waves rolls in a shaft of musical fury, emphasizing the title of Crowned Serpent song in the chorus again and again.
A mid-tempo march pulsing with dark impulses rolls with gloomy trends of unclear omens in the Opposer of Light intro. Then the rhythm is hardened, and takes away the musical image on the dark wings of a swift drive.
The harsh trends of the impetuous drive immediately rolls in the Tombs into Flesh intro with irresistible whirlwinds, but then the charming melody is embodied in charming motifs, fully presenting itself in the middle tempo majestic passages of the instrumental part.
Refractions of thought and emotional doubt are woven into a thoughtful and unhurried Halo of Lies composition, which envelops the mind with fetters of doubts and premonitions.
The fascinating triumph of the main motive enters already in the Transcendental Death intro, enchanting with a solemn sound, then as if transformed into rhythmic pulsations and transforming into a mid-tempo march with vocal intro. But the music is transformed into an irrepressible stream of furious drive, beyond which vocal reflections do not have time, because the flow of music slows down speed and sharpness somewhat. Then this alternation is repeated. Broken pulsations brings a certain tint of progressiveness to the album, but the militant swiftness and severe fury of the ancient legends dominate the musical image of the Paradise Lost song.
The title track Throne Ablaze completes the album, creating a more diverse compositional picture than previous songs - combining many styles together and complementing the drive with symphonic influences and giving a certain theatricality to the vocal narration.