June 22, 2019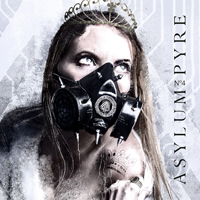 Soft musical outlines of electronic twilight envelop thoughtful phrases of female vocals in the Lullaby for the Clairvoyants intro, then male vocals complement the One Day (Silence / Part 2: Daydreaming) song with their connections and alternations the sound of the first composition of the Asylum Pyre - No. 4 album.
Female vocals dominate the musical image of the Sex Drugs and Scars song, sometimes it is supplemented by distorted phrases and background vocals. The Lady Ivy intro has a mid-tempo march, but then explodes with a flash of drive, but with the vocal coming in, it returns to a pulsating musical sound on the verge of a medium tempo.
The fascinating circulation of the On First Earth main motive mysteriously covers vocal phrases in the introduction, then creating a fascinating symphony of accompaniment in the chorus and continuing with the thoughtfulness of the verse.
The mysterious musical Dearth sacrament complements the growling of male vocals, alternating with fascinating tunes of female and inspired phrases of clean male vocals.
Starting with the fascinating romanticism of the phrases of the female vocal, Into the Wild is then transformed into a pulsating bright emotional melody. In sound of the Mcq Drama track, the electronic impulses of the intro, the processing of female vocals and the variation of the vocal part are highlighted.
Leisurely reflections of female vocals alternate in a hard pulsating march with male vocals, intertwining in a dense and confident Borderline chorus narration in a duet. The verse is dominated by vocal recitative.
The harsh and tough The Right to Pain intro appeals to the charm of the female vocals, then taking the alternation of the vocals in the stream of a fast-flowing power metal drive.
The symphonic saga intertwines with the waves of the drive, complementing the sound of the The Broken Frame composition in the instrumental bridges and retreating in front of bright flashes of vocal phrases. The Cemetery Road midtempo march, enveloped in covers of melodic symphony, completes the album with waves of inspiration and reflection.