September 30, 2020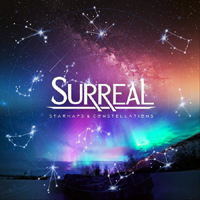 The Orion vocals begin with dreamy tunes, combined with a sparkling lace of musical charm that brings some pop influence to the Surreal - Starmaps & Constellations album's opening track. The Best Days brings vocal inspiration to the fore in musical style, discarding the complexity and mystery of musical choices. Vocal emotion drives the development of the Embers composition by invoking inspiration from guitar solos and musical variations.
The Journey To Atlantis instrumental symphony fascinates with the intricacies of cosmic currents, the alternation and interweaving of musical styles and instrumental passages, fascinating with inspiration and progressive mystery. Discarding the complexity and bitterness, the sound of the Resurgence track brings echoes of synth-pop music to the sound of the album. Vocal phrases bring a touch of hopeful inspiration, captivating pleasant musical festivities into the Chasing Wind charming dance.
Returning to cosmic inspiration, the Firefly Cloud Pt. II elevates vocal narration to the pinnacle of musical imagery. Reflections of musical inspiration appeal to vocal sensibility, invoking the development of the musical essence of the Northern Cross final composition of the album.