April 06, 2018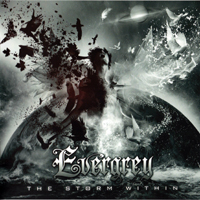 Silent sadness precedes the Distance main motive, supplementing it with a sophisticated sad shroud, but the vocals create a romantic atmosphere, starting the Evergrey - The Storm Within (Deluxe Edition) album with so charming ballad, twisting dark prophecies with dreamy anticipations of distant blessings.
Passing Through continues epic tale in the middle tempo, keyboards bring a mystical atmosphere of fairy tales that carry everyone and everything from the ancient past to the far future.
A harsh and furious energy, sibling with a majestic symphony, precedes a bright saga Someday combining dark romance with charming images of seductive promises that one day they will open their hearts to all around.
The Astray main motive juggles with various musical variations, creating a charming atmosphere of a magical epic, combining incredible melodism with the sensual emotionality of the vocal part.
The pensive ballad The Impossible is poured with a sparkling symphony embodied in keyboard passages, restrained and majestically enveloping vocal reflections with so romantic musical palette.
Keeping epic majesty My Allied Ocean brings a wave of violent and powerful drive - which many have been waiting for from a group of this style with impatience. But the instrumental energy and the furious threshing of the rhythm of the section only lift the enchanting melody closer to the sun, sparkling with precious melodious delights.
The keyboards In Orbit (feat. Floor Jansen) leitmotif is enveloped by the tunnel of progressive musical motifs, then the vocals, alternating charismatic male vocals with the enchanting vocal of the singing lady, who became the vocalist of the legendary group, occupies the leading place in the composition.
Sparkling melodic echoes flow of drive into the introduction and verse is combined with dreamy sighs of the vocal, turning into charming The Lonely Monarch reflections in the sensual ballad of the chorus.
Calm ballad The Paradox Of The Flame (feat. Carina Englund) spreads incredible tranquility, alternating pensive male vocals and sensual female enveloped in a symphonic atmosphere of violin, keyboards and orchestral extravaganzaes.
Wave of furious drive pours into the Disconnect (feat. Floor Jansen) introduction, entering vocals turns the composition into a majestic progressive ballad saga. In the instrumental bridges, the soft and quiet keyboard passage precedes the return of the sparkling drive that pushes the vocal of its energy. But the enchanting romance comes back again.
So soft, sublime and charming title track ballad The Storm Within completes the album with a majestic narrative about the approaching storm, symphonic enveloping the keynote keyboards with an orchestral background, rolling in spectacular and progressive musical images, bewitching the mind with such marvelous music. Well, the album is finished, but in this edition there is still a tribute to the legendary band - Paranoid (Black Sabbath Cover)! But then it turns into a tender and melodic ballad, in which the original composition is simply unrealistic to learn - just listening to the text. Of course, the Black Sabbath fans will throw me tomatoes - but this cover is better than the original!