August 08, 2020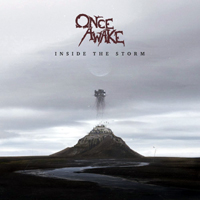 An obscure mystery precedes the development of the In the Graspmain motive, flowing and unhurriedly elevating the vocal part to the top of the musical narrative, complementing the musical and vocal variations with progressive variability. The Live Life On romantic mystery of the introduction continues the Once Awake - Inside the Storm album, at first enveloping the listener with an atmosphere of romanticism, combining with the fierce vocal alternation of screaming and growling, then exploding with a stream of drive.
Accentuating the rhythm of the musical sound, the Deathtrap subordinates the vocal appeals to these pulsations, preserving the mathematical complexity of the rhythmic pattern. The Inside the Storm adds epic tones to the musical outlines, calling the vocals into tones of clean vocals. The Evil Within explodes with incredible fury of vocal drive, alternating rhythmic variations of musical accompaniment.
Whipping up rhythmic significance the Stranglehold raises the banners of the epic anthem. Folklore echoes of oriental motives are intertwined with futuristic echoes of electronic pulsations of the Cynical Era vocals phrases, obeying their appeal to accelerate the tempo. Enveloping with the romantic mystery of the intro, The Faded enchants with the progressiveness of musical variations, then whipping up the flow of musical drive, preserving the mid-tempo structure. The Soul Eater continues the waves of drive, rolling with an angry fury of a deadly round dance. The Eye ends the album with a mysterious instrumental romance.