September 03, 2020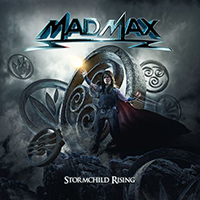 Starting the Mad Max - Stormchild Rising album's musical narration with the swift drive of the high-speed musical stream, the Hurricaned again and again emphasizes the title in the chorus. hastily striving for the chosen goal. The Talk to the Moon slows down the musical sound to a medium tempo rhythm. The Eyes of Love brings vocals to the forefront of the musical image, while preserving the mid-tempo musical style. The gentle guitar solo anticipates the development of the musical melodism of the Ladies and Gentlemen romantic ballad.
Rolling with a stubborn drive of the mid-tempo combat march, the Mindhunter complements its rhythm with vocal doubts. Accelerating its musical pace the Rain Rain maintains the rhythmic pulsation of the sound, emphasizing the tempo. The sparkling guitar solo of the introduction sets the theme for the development of the main motive of the Gemini composition. The Kingdom Fall enchants with the sad romanticism of forgotten legends and lost tales. The Blues Ain't No Stranger retains the epic essence of the bardic sagas, complementing them with blues influences.
Emphasizing the mid-tempo rhythm, the Take Her vocals soars with an emotional whirlwind over the gloom of ordinary story. Musical severity argues with vocal emotionality in the Busted song's sound. The Ladies and Gentlemen (Single Edit) puts an end to this release by rethinking one of the album's songs.