November 18, 2019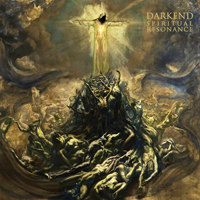 The ritual tunes of a shaman conducting an obscure ritual end with a bewitching melodic passage of keyboards that invokes The Three Ghouls Buried at Golgotha vocals phrases. Together with the vocals, a deadly stream of drive takes off, but in the chorus the bewitching motifs of inspired melody raise vocal appeals in the majestic sounding of the solemn anthem.
The gloomy ghosts of obscurity rise from nothingness, continues Dark End (Darkend) - Spiritual Resonance album's music and enveloping the unhurried procession of the musical narrative of Scorpio Astraea High Coronation composition with an obscure mystery piercing mystical forebodings and mysterious conjectures.
Vaguely, but confidently and persistently, With Everburning Sulphur Unconsumed (feat. Lindy-Fay Hella) song elevates the epic banners of the main motive. Particular attention should be paid to the shades given to the tunes of the invited singing lady in the choruses. Weaving a bewitching lace of violent harsh drive and symphonic shades, the Vessel Underneath song covers this bewitching piece of music with sparkling covers of enchanting melody.
Fascinating and charming with the leisurely sound of the musical canvas Hereafter, Somewhere gives it a romantic atmosphere and captivates with the epic sound of a fairy tale saga. The Seven Spectres Haunting Gethsemane continues the epic style and completes the album, rolling the scrolls of bewitching tales, captivating the listener with an incredibly melodic and charming interpretation of folk epics.