April 14, 2023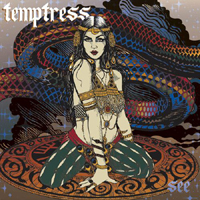 Slowly and carefully weaving the twilight lace of the musical background around the vocals lyrics, the Death Comes Around song brings to the fore of the vocal part the thoughtful reflections of the singing lady, complementing them with background support for male vocals, slowly marching along the original path of the musical fairy tale of the Temptress - See album, emphasizing the significance of the sound of this composition by the duration of its musical story.
The guitar solo of the intro begins to weave the musical canvas of the main motif, rolling it out before the thoughtful procession of the vocal part of the Into My Soul song, receding before the pressure of the guitar passages of instrumental bridges, in order to then unite with them in the joint sound of the chorus, which ends with the bright sparkle of the guitar solo of the instrumental part, retreating before the assertive drive of the guitar riffs preceding the final fragment of the musical image, in which the male vocals and background wordless tunes.
The assertive and combative spirit of the guitar riffs of the intro sets the direction for the development of the main motif of the Waiting battle march, alternating male and female vocals in the foreground of the rhythmic procession, bringing twilight mystery to the guitar solos preceding the chorus, thickening the gloomy atmosphere of the mysterious haze around the vocal narrative of the Cry musical story, enveloping the fascinating mystery of the final guitar solo.
The guitar solo of the intro weaves an enchanting lace of melodic charm, receding before the restrained and invisible pressure of the vocals mystery of the Serpentine twilight musical tale, told by the voice of a mysterious witch full of dark charm, continuing the fabulous shades into the sound of the Hopeless epic bard ballad, bringing male vocals to the fore and concluding the album with enchanting shades of echoes of epic sagas and heroic tales.