June 02, 2019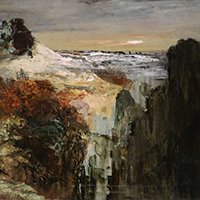 The gloomy atmosphere of the first track Yesteryears envelops the listener with viscous viscosity, enveloping vocal phrases with dense darkness and viscous viscous musical passages, dragging them into the abyss of darkness. Pulsating South of no north vocals phrases roll with a stubborn narration, penetrating the musical darkness with a blade of harsh self-confidence. As if continuing the previous composition, Oldborn retains a gloomy haze, adhering to the general atmosphere of the Heaume Mortal - Solstices (CD 1) album. In the gloomy veil of musical gloom, ghostly echoes of undead souls appear, twisted by dark entities around the axis of the main motive, entwined with sticky guitar riffs and musical images.
Paying due respect to the founders of the black metal genre, Erblicket die tochter des firmament (Burzum cover) honors and respects, retaining the original style, but transforming its shades according to the atmosphere of this album.
Transforming the twilight haze of the musical image Tongueless (part III) complements the album's style with gloomy romanticism, enveloping the mystery of dark temptations.
The noise of the rain, the procession of a wanderer begin the final album of the Mestreguiral composition, in a muffled atmosphere of bad weather and processions occasionally flashing with keyboard notes.
The second disc of this artwork Heaume Mortal - Solstices (CD 2) contains instrumental versions of all compositions, except for the cover of legends of the black metal.