April 15, 2022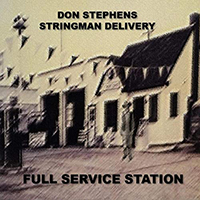 Dreamy musical passages roll out a soothing canvas for the Is There Anybody Out There thoughtful vocals procession, to which artistic keyboard variations creates a symphonic background. The title track continues the musical narrative of the Stringman Delivery - Full Service Station album with unhurried thoughtfulness, anticipating the gentle romanticism of the I'm Glad That You Are Here With Me Tonight ballad, enveloping the listener in an atmosphere of peaceful calmness.
Inspiration and admiration for charm are embodied by the sparkling and bright You're Looking Beautiful Tonight dreamy story, intertwining music and vocals in a gentle dance, anticipating the gentle and bewitching When You Feel Like Coming Around ballad with thoughtful vocals dreams. The When Your Dreams Come Shining Through musical reflections bring the vocal part to the forefront of the musical image, complementing the main vocal in the chorus with a background chant.
The vocal narration accentuates the memories of The Company I Keep friendly intimacy and slowly walks along with the support of the enchanting melodies of the harmonica. The acoustic guitar weaves the artistic lace of the soothing Oh Tomorrow song, then combined with the vocal pacification in a single musical narrative, continuing this style in the unhurried procession of the Isn't That Nice song. The announcer announces the festival celebration and The Traveling Three Ring Tent Show final track closes the musical gates of the album with a leisurely sound of musical pensiveness.