February 20, 2017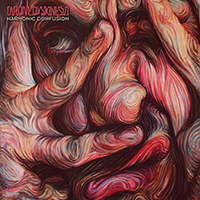 In search of understanding of simple things you can get into the network of illusions, that entrains into Tardive Dyskinesia - Harmonic Confusion !
Pulsing as beating of invisible and intangible heart Insertion envelops us mysterious breath of unpredictable mystical essence, preparing the soil and the foundation for the Fire Red Glass Heart, starts with a short phrase and then in the volatile broken rhythm combining a variety of musical tricks, flavoring with vocal variety of melodic dreamy clean through harsh harsh with inserts furious and embittered growling...quiet and calm respawn calms music for melodic guitar solo, which soothes and slows down the pace of ragged rushes, but jagged breaks returns - and variations whirls again and again!
In a whirlwind of furious guitar riffs rises in a furious burst of desire to reach heaven, but then The Electric Sun scorches the hoisting wings and calm voice of ancient ancestors experienced pronounced impressions. But the thirst for adventure again manifested in violent harsh vocals, intersecting and exchanging experiences with dreamy and melodic clean vocals, complementary of the ballad parts.
Curious and mysterious melody Self Destructive Haze thickens shades, filling ambient open spaces with hazy clouds of mystical events.
Easy piercing wind of light guitar break makes intro of Thread of Life, continues in persistent and assertive manner to create the lifeblood. The instrumental part of the hard violin attaches to the sound, gaining shades of symphonic delights to the track.
Concentric Waves surround the axis of its narrative with vortices of misterious motives, changeable vocal phrases shrouding by intriguing shades. Nervous screams emotional vocals and sublime refinement dance guitar completes the composition.
Hard beats Triangulation Through Impasse so pulsate in the nervous jagged atmosphere until this rhythmical music not connected alternately nervous and harsh vocals with spectacular guitar riffs, distracting from anxiety of ordinary everyday boredom.
Savior ComplexAfter alarms and dangers, concentrated in the unexplored lands 1 begins as a romantic ballad - but the surrounding dangers have not gone, only waited for a bit to surrounds again with its spells, charms and unexpected turns.
Hard rhythmic tunes musical concentrates image Echoes 213, that was pierced by dreamy vocal phrases, alternating with tough harsh vocals - and again piercing thick dark fog gloomy haze with sensual emotions.
Curious refined in mystic inexhaustible instrumental suite Chronicity completes the whole artwork with its charming sound.