June 23, 2019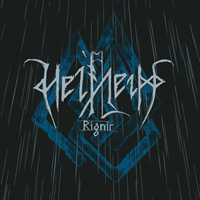 Unhurriedly and thoughtfully, the main motive of the Helheim (NOR, Bergen) - Rignir album's title composition reveals the essence of the narration, complementing its narration and announcing future events and changes with mysterious vocal melodies.
Power and drive restraintly and majestically fill the Kaldr chalice of musical narration, passages of screaming and growling burst into the vocal, combined with the inspirational additions of clean vocals.
The soft and weighted Hagl musical narrative enveloped in frosty shackles fascinates with sparkling covers of incredible peace, then rolling out the majestic covers of fascinating reflections. But then the power and rage of the northern spirit spirits inject austerity into the narration of the music halls, the vocals become somewhat hardened and complement their significance. Snjova as if continues the narration of the previous composition, rolling the stern turns of a stubborn and sonorous march. Vocals, full of inspiration and emotion, rises to the surface of the musical image.
Romantic urges of guitar fingering increases the anticipation of Isud fascinating ballad, but the pulsating waves retain the romantic style filled with power and inspire with anticipation of future changes with vocal additions.
Inspirational influences of blizzards and northern winds intertwine in enchanting lace of the Vindarblastr fascinating melodies. Slowly and painstakingly, Stormvidri proceeds to the basic motive of the musical narration, for a long time avoiding vocal phrases before participating in the creation of the musical image. Inspiration and fascinating glittering charm of snow and northern expanses Vetrarmegin completes the album with a solemn hymn to sparkling snow and ice flame.