March 14, 2023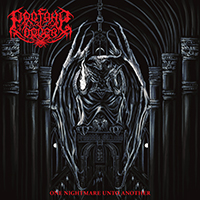 Darkness and gloom immediately envelop the listener in the veils of musical twilight, complementing the sound of the In the Shadows of the Past composition with unbridled retributions to vocal anger, starting the Profane Order - One Nightmare Unto Another album with an uncontrollable influx of darkness and its imps.
After a brief preparation for the introduction, the music and vocals of the No Light Here song are intertwined in the furious flight of a single musical blade, piercing the twilight cover with its ghostly edge. After being prepared in the intro, the composition rolls in harsh waves of A Sombre Passage musical drive, crowning their crests with inspired melodies of vocal phrases.
A swift whirlwind of unrestrained flight of musical zeal weaves a charming lace of mesmerizing guitar passages around the blade of the Suppression main motive, anticipating the development of musical mystery in the twilight intrigue of a leisurely introduction, carefully and thoughtfully preparing the ascension of the vocal narrative of the Pernicious Scum song, shrouded in a whirlwind of whirling guitar riffs, entwining the axis of the main motive of an ornate musical spiral.
Exploding with a deadly whirlwind of sharp swords in the unrestrained dance of the intro, the Seething track then races along the line between furious drive and melodic charm, combining these elements in its sound, emphasizing the anger and power of the sound in the Of Bile and Malice final song of the album, sometimes appeasing its tread with vocals reflections.