October 10, 2021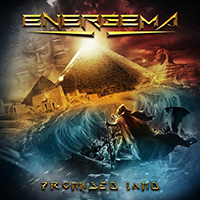 Symphony of the The Rise Of Ramses II (Overture) intro reveals the road for the Energema - Promised Land concept album, combining inspired vocal narration and bright musical sound in the The Eyes Of Pharaoh song's music.
The Promised Land title track immediately accents the name, then binding the symphonic sound of musical variations with inspired vocal phrases. The Burning Bush sounds with a painful reflection after a long entry, whining the vocal narrative of the atmosphere of a foggy mysteriousness with the oriental motifs.
Bright and rapidly the Foreign Reign song twists music and vocals in a single musical stream, fascinating the listener in the rapid flight of musical unity. The Secret Spells displays the vocals to the foreground of the musical history, complementing the basis of the vocals with backdrops of comrades.
Vaguely, painfully and significantly sounds the story of the River Of Blood musical fairy tale, marching consciousness and mind with memories of so terrible and frightening events. The inspired narration of the Exodus song precedes the sound of the final Crossing The Sea (Epilogue) symphony.