June 10, 2021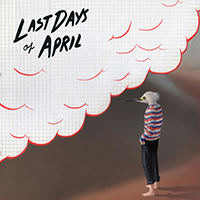 Music combines with vocals in the soft dance of acoustic charm, giving the sound with The Artist composition of charm and inspirations, decorated with artistry key variations. The Way Things Were song continues the story of the Last Days Of April - Sea Of Clouds album, immediately uprising the vocals phrases on the crests of the musical sea, giving great importance to the back of the guitar solo in the musical image.
The music is slowly marching, complementing the dreamy atmosphere of vocal reflection with a soft chime of the Oh Well composition, then The Thunder & The Storm gives some kind of alarms and doubt a romantic atmosphere, complementing the main vocal with the background.
Guitar solo wraps vocal phrases with charm and combines with vocals, again and re-focusing the name of the Everybody Knows song. Soft and gentle musical passes in a combination with the Sea Of Clouds vocals phrases create a charming lounge atmosphere.
Music captures vocal experiences into the world of dreamy fantasies, moving together in the charming dance of the Someone For Everyone song, then chime acoustic guitar strings together with the Every Boy's Dream vocals inspiration and singing of birds on the background brings the country-style echo in the sound of the album. The Get You composition is inspired and charming completes the musical tale of the album.