December 16, 2021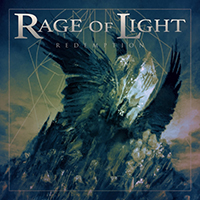 Beginning with a soft musical mystery, the Iciness composition then combines the musical motifs of an ancient fairy tale with their futuristic realization and a variation of vocal phrases from a charming lady to a harsh growling. The 2.0 song continues the unity of such contrasting musical and epochal styles in the sound of the Rage Of Light - Redemption album.
Pressure, drive and fury combine with sparkling ribbons of melodic enchantment in the sound of the Crusade For The Sun musical thriller. Building a castle of musical charm, the Lead The Riot song combines the inspired chants of the singing lady with the fierce and harsh demonic phrases of the harsh witch's growling, at times combining them in a single musical stream.
After an intriguing beginning, the Chasing A Reflection track again builds its compositional structure on the alternating vocal phrases of the singing lady and the demonic witch. A whirlwind guitar solo calls for a melodic revelation with a shriek of vocal fury, then unites in a single prescient of symphonic grandeur, alternating with bursts of drive in the sound of the Exploder song.
The twilight covers of the ancient tale pierce the constriction of space and time, embodied in the futuristic musical variations of the Breaking Infinity composition. The Aspiration song puffs up the gloom and fury, rolling in waves of unyielding drive and the pulsations of a battle saga. The Beyond tale closes the album with the epic majesty of a solemn anthem, honoring the exploits of legendary heroes.