June 07, 2019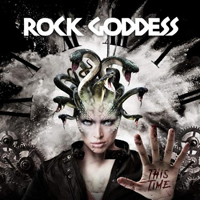 The first composition of the Rock Goddess - This Time album fuels the intrigue, again and again asking for its name Are You Ready?, accentuating it in the chorus again and again. Vocals full of emotions narrative dominates the Obsession composition, the musical accompaniment is supporting these experiences their musical passages. Two Wrongs Don't Make A Right continues the dominant role of vocals in the sound of the album, but instrumental influences becomes more emotional and rhythmic.
The main vocal changes the style of its sound, initially shaking the harsh notes from its sound, then singing ally complements the Calling To Space vocal part, introducing trends of friendly support.
The Flying To See You composition, full of expectations and anticipations, approaches sounding to a ballad style, but retains nuances of adventure and a premonition of trials, embodied in the gloomy pulsation and medium tempo drive of the Why Do We Never Learn? song and full of anxiety and excitement of vocals, reflecting an incredible readiness for any trials.
But the sensual romance of the title track This Time discards these worries, the vocals in the choruses emphasize the readiness to meet face to face with any enemy and to overcome any difficulties and obstacles.
Emotions, anxieties and doubts interlace in a restrained drive of the It's My Turn song in a plea to stay and share the road, combining medium-tempo pleas and impetuous streams of restrained drive. After the experiences, so soft Drive Me Away romance gently and sensually comforts, complementing the romantic narration with notes of significance and confidence of the completion of the album.