May 18, 2022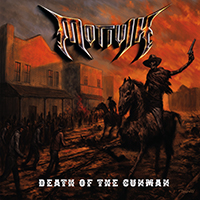 Billowing with a whirlwind of unrestrained musical drive together with a furious vocal harsh, the Inception composition then brings elements of melodic reverie with reflections of clean vocals, which is brought to the fore in the introduction of the Away composition, which rapidly and vividly continues the sound of the Motivik - Death of the Gunman album with artistic melody, expanding its stylistic framework with recitative vocals. The acoustic guitar weaves the enchanting lace of the sound of the Lament insrumentalal romantic ballad with its mesmerizing solo, continuing the romantic atmosphere in the introduction of The Past of Tomorrow composition, but then saturating and condensing the sound of melodic musical motifs and complementing them with emotional vocal experiences.
The sound of the Souls in Torment (Sacrament (USA, Pennsylvania) cover) musical saga combines melodic guitar solos and variable vocal transformations, combining in the joint musical lace of the album's long and significant musical artwork, continuing and developing musical diversity in the sound of the Undismembered composition, more focused on mid-tempo persistence and giving charm to the musical sound of guitar solos of instrumental fragments.
Developing musical formats with a mid-tempo march, the On the Way Down song elevates vocals phrases to the top of this procession. The Pale Rider composition, after careful preparation, hardens the sound of music and vocals, then explodes with a whirlwind of rapid drive. The mystical atmosphere of the Let it Be Known epic saga completes the sound of the album with the charm of a musical fairy tale.