September 26, 2018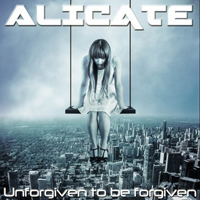 Prophecy and mysterious predictions behind the bright melody preface the Unforgiven introduction of the first composition of album Alicate - Unforgiven To Be Forgiven, then returning to the proclamations again, anticipating thoughtful and diverse vocal prophecies, which are very diversely complemented by guitar and keyboard accompaniment.
A pensive ballad Facing My Fear is keaping sensual vocal phrases at the head of the narrative continues the album. But from time to time the musical narrative seeks to break into the limits of medium-tempo compositions, which they succeed in the middle part.
Brief mystical chorales turns into dense gloomy flow of drive, transforming Scream musical image into a dense and fascinating canvas, intertwining vocal riddles with musical sacraments together.
Eastern trends are intertwined with American country music, combining in an exciting and unique composition Erase & Rewind in a very interesting fusion of trends and trends. The vocal at first introduces a bit of romanticism, then in the bridge introduces a wave of drive, returning to an incredibly romantic presentation.
The intertwining of epic narrative and country motifs Coming Home (Farewell Part 2) continues the album. The epic narrative continues. A soft thoughtful ballad that weaves male and female vocals into vocals. The rhythmic drumming is combined with the symphonic influences in the I Don't Mind intro, then song complements the narrative with interrogative intonations and variations of the medium tempo musical canvas, intertwined with fabulous motifs.
Vocal begins to develop the Where Do We Go - Where Do We Hide composition with pleas and exhortations, then the phrases are woven into musical passages in a fascinating whirlwind of enchanting romanticism.
Anxiety at the top weaves orchestral passages with disturbed notes of bass and vocal doubts, weaving them in the progressive Last Breath lace of exciting and diverse musical images. Cry No More seems to continue the romantic moods of the previous composition, but with the "I don't want to cry!" vocals scream bring in a wave of drive, leaving, however, the composition within the ballad style, but bringing revival and rebellious energy and extolling symphonic influences above the clouds. The album is completed by a diversifying romanticism with anxiety All To Win ballad, a charm of dark haze and combining uncertainty with indescribable melody and impressive progressive trends.