August 12, 2020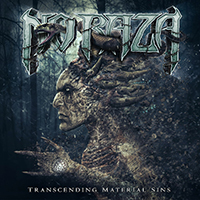 Densely, rhythmically and harshly pumping the waves of the musical march, the On the Verge of Dying Out crowns these mid-tempo pulsations with the echoes of harsh vocal narration, accelerating the tempo before the vocals begin. Accelerating the tempo and enhancing the sound of the driving music, the Ancient Wars song continues the No Raza - Transcending Material Sins album with a furious action movie, remaining, nevertheless, on the verge of a mid-tempo rhythm and introducing a fragment of an epic saga in the middle of the composition.
Developing musical variations at the direction of the vocal part the Reborn sound walks through the epic twilight of forgotten tales. The Fratricide continues this musical style, enveloping harsh vocal phrases in epic musical lace. Expanding even more mystical realms Sail in Rot (feat. Tony "Demolition Man" Dolan complements the sound with the participation of a guest vocalist.
Changing the English lyrics of the songs to the native language of the group Alteración mental fascinates with the enchanting melody of musical sound. The Decontamination again returns to English lyrics, rolling in waves of oppressive drive. Piercing the musical gloom with the blade of impetuous drive Scorn preserves the harsh mysticism of vocal mysteries. Introducing as a symphonic melodism Atrición then enchants with the unhurried sounding of a solemn anthem. The En carne y hueso continues the epic saga, bringing in fragments of furious drive. The Transcending Material Sins title track concludes the album with an instrumental symphony with wordless chorales.