April 18, 2021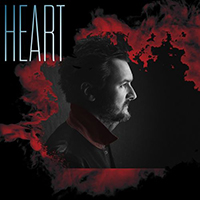 The soft acoustic chime guitar string anticorates soft wise vocal appeals to the Heart On Fire song that opens the gate of the Eric Church - Heart album, enveloping the thoughtful wisdom and mild charm of the country style. The Heart Of The Night continues the theme of heart experiences by a more romantic atmosphere of soft tenderness.
The Russian Roulette vocals raises the tonality and complements the inspiration of musical experiences with sensuality, in which the artistry of keypads is manifested. Then the sound of the People Break song is returned to the pacification of the native expanses.
Vocal experiences are put forward on the forefront of the Stick That In Your Country Song musical image in which some of the extensions of modern music are manifested. The narration of the Never Break Heart vocal part complements the dominant male vocals of the phrases of the female vocal and charm of keyboard notes.
The chime of acoustic guitars strings is woven in the fascinating dance with the Crazyland vocals reflections, combining male and female vocals. Estimation and nervousness are combined in the Bunch Of Nothing dance with a compacted chime of guitar riffs and variations of keyboards improvisations. The Love Shine Down completes the album, rewarding due respect for the unforgettable heating of the musical source of this style.