March 04, 2018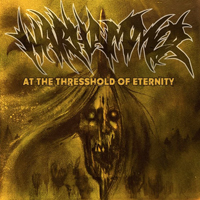 Epic instrumental march The Nightmare Started calls the knights to the banners, starting a conceptual musical chronicle Warhammer - At the Threshold of Eternity, which tells about fights, battles and military valor.
Tired after long and difficult wanderings Through the Realm the bard begins his tale with acoustic passages, the strings create an atmosphere of romantic adventures, but then a swift race and a frenzied drive are carried away in a whirlwind of musical anger, returning to epic motifs in each instrument bridge, where the main role plays bas guitar's solo. In the chorus, emotions and emotions come to the forefront of the musical image, as if enveloping the atmosphere of future trials. In the instrumental part, the acoustics from the introduction comes back, creating a background for the tunes of unknown spirits anticipating a furious drive and a severe powerful passage.
A viscous Collision introduction envelops all around with the gloomy haze, in which dark spirits and eerie undead inhabited. The instrumental part develops long and scrupulously at the beginning, then the vocals complete with their phrases a dark horror, rolling in with creepy and frightening images at an average pace. But the vocals show up a little in this instrumental extravaganza, which binds the consciousness in a dark impenetrable abyss amid horrific spells and countless undead.
Terrifying gloom and incredible horror cry cease with the romantic bard ballad, then Stone Dead Warrior tale turning into an inspiration for the coming battles and setting off on a valorous way in the coming battles. In instrumental breeches, harsh battle march and bright guitar solos varies as well.
Severely and gloomily promoting in the verse an incredibly horrific atmosphere, sweeping away in a swift driving rush in the quest for deliverance from demon's Pandemonium. In bridge before the chorus, an unforgettable guitar solo inspires you to think in the chorus afterwards.
In the mid-tempo saga of the title track At the Threshold of Eternity sounds, the intro and couplets alternate with alarming and intriguing expectations, the vocals translate the sound into a sensual and thoughtful march, in the choruses enveloping everything around with ballad romanticism.
The album ends with an instrumental epitaph Resurrection from the Ashes, which draws a line under all previous battles, experiences and reflections.