January 08, 2021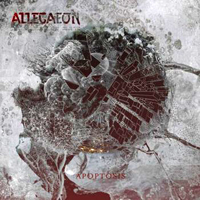 The bright and sparkling Parthenogenesis guitars music artwork enchants with progressive artistry and bright musical improvisation, opening the Allegaeon - Apoptosis album's musical gates with a very impressive sound that continues with the musical significance and stark solemnity of the Interphase // Meiosis song, complementing the progressive fractured rhythmic structure with the vocal part.
The sparkling and bright guitar solo draws the listener into the artistic development of the sound of the Extremophiles (B) track. The Secular Age composition gives the musical narrative an anxious atmosphere and expectation of unexpected changes. Easing the musical sound and varying the tempo from mid-tempo musings to rushed hurriedness, the Exothermic Chemical Combustion song incredibly expands the stylistic framework of the album. The futuristic echoes of scientific experiments clearly influence the sound of the Extremophiles (A) composition.
Enchanting with romantic melody, the Metaphobia song stays loyal to the energetic drive. The Tsunami and Submergence musical suite artistically and progressively develops the unity of anxiety and hope in a single consciousness with a sense of impending catastrophe and introduces inspired chants of clean vocals in unison with harsh growling with a background of progressive musical variations.
The Colors aof the Currents charming instrumental extravaganza of romantic itinerant explorations serves as an introduction to the album's final chapter, in which the set instrumental first have been developed in the sound of the Stellar Tidal Disruption track, then the album's title track Apoptosis completes its most varied, wide-ranging and sustained musical artwork.