November 05, 2020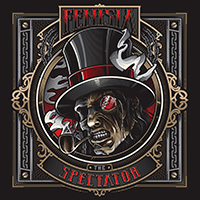 The Lord Lumieres intro's guitar solo raises the bright and sparkling banners of melody, the music accelerates to a meteoric pace in anticipation of the vocals intro. The Sky Oracle song continues the musical narration of the Fenisia - The Spectator album with a mid-tempo march that rises in a whirlwind of solemnity in the chorus. But the guitar solo in the instrumental part builds up an acceleration of the tempo, intertwining in a bright dance with vocal phrases. The significance of the bass guitar part increases in the rhythmic pulsations of Manifesto composition, which crown the musical passages with emotional vocal phrases.
Twisting the musical foreboding of the main motive with a guitar solo in intro, the Wake Me Up then combines the guitar riffs with the vocals into a single musical stream. The Eternal Cult guitar solo is intertwined with the vocals in an impressive and mesmerizing dance. The Burned in My Brain romantic ballad adds emotional charm to the album, combining musical melody and vocal sensibility.
Music and vocals are intertwined in a mesmerizing lace of the Wizard of the World mysterious fairy tale, varying tempo and vocal doubts in an exciting sound. Rolling with a stubborn wave of mid-tempo march the Conspiracy Rules song crowns this musical procession with vocal phrases. The Are You Gonna Go My Way track closes the album with a spicy whirlwind of southern rock wrapping around vocal phrases in sparkling musical passages.