February 15, 2017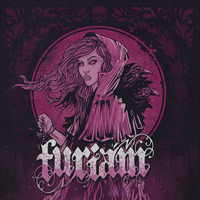 Lyrical and romantic tunes are united with dark fetters in the Furiam - Furiam phrases and melodies.
Viscous oppressive riffs complements foggy gloomy keyboards passages to state that Nightmare Never Ends. The vocals provides the whole picture - the emotions and the nervousness of pure female vocals interacts with screaming rage and growling with anger.
Abandoned Land brings melodic part in the gloomy fog, but growling does not let to escape from the Abyss of the darkness - but Lady even invites all there, tells "welcome to abandon lands".
Singer Lady breaks in the foreground, raising melodic pieces in free flight over the dismal abyss with growling phrases of those who have to Burn in Hell forever and ever.
Exalted dreamy notes of the keyboards symphony renders Bow to Me to the heavenly palaces, gloomy disturbing vocals continues the dispute between heaven and hell.
In a rhythmic way Heavy Metal State sets its own rules and laws, male vocals vary between rusty harsh screams and hushed clean style, thus bringing the share of antiques and gothic manner.
Romantic lyrics Fall Apart takes us to the emotions of troubled ladies story, gentle keyboard motif soars over her nervous phrases.
Fierce enchanting power of frenzied musical bursts intersperses with calm portions of vocal thoughts, arguing that Nothing Remains the Same.
Insinuatingly keyboard passages pursue tough rhythmic riffs, hiding at the time of verse and exalting its Revolution Calls activities at the forefront in the importance of the chorus.
Lady in a clear and abrupt manner gives the shade of the blues in the intro of the Sweetest Words, then men growling joins the narrative, clouds of a musical picture are gathering and tighting to the gloomy twilight.
You Could Not Get Away closes the album, attaching encouraging phrases in rhythmic march.