June 19, 2021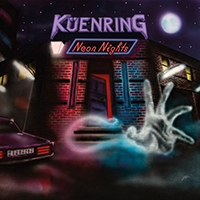 Fascinatingly varying musical styles, the Dead On song starts the Kuenring - Neon Nights album sounding with a very impressive compositional variability. Then the Don't Give A Shit composition captivates with the irrepressible sounding of the main motive, then elevating vocal experiences to the top of the musical image.
The whirlwind of a guitar solo takes you on a journey through the vastness of forgotten fairy tales, complementing the Tomorrow musical sound with mid-tempo vocal reflections and progressive fracture of rhythm. The Demon song captivates with the soft acoustic sound of the bardic saga, softening the vocal phrases and musical frenzy.
Rolling waves of the main motive, the 26A song carries the listener to the readiness to receive emotional vocal confessions. Uncompromisingly and hastily, the introduction of the Finish Line generates a wave of anxiety. But the soft and melodic sound of the instrumental bridge anticipates the intro of the vocals and develops the sound of the verse, returning to the motives of the intro of the chorus.
The inspirational and melodic sound of the Torn Apart (While Alive) song brings notes of romanticism and echoes of vocal sensuality to the musical expanses of the album. The Danger Zone instrumental track acts as an intriguing introduction, the continuing whirlwind of the drive of the Further On Through The Night song, in which music and vocals come together in an irrepressible round dance. The Streetlight Dream composition end the album with the majestic melodic ballad.