February 17, 2021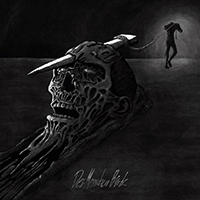 Demonic grinding of vocal calls, combining screaming and growling, opens the gates of the Eisenpfahl composition, captivating with the exciting sound of the main motive. Drum roll sets the directions for the charm of a guitar solo, then follows the dogged march of the Hagazussa battle march, rhythmically and meaningfully complementing the vocal proclamations with musical passages. The title track continues the Interregnum - Des Menschen Burde album's musical narration with an epic saga, alternating the sophisticated importance of vocal phrases with the bright sparkle of melodic guitar solos.
After thinking about the musical variations of the introduction, the Blutdammerung song rises in a rapid flight to feats and achievements. But the instrumental bridge introduces a mid-tempo pensiveness, receding before the swiftness of musical passages, crowning the vocal screaming with sparkling overflows of guitar solos. The rhythmic procession of musical variations is complemented by the Heldenlieder vocals appeals of the warlord's stern growling and emotional screaming vocals of his assistant.
The harsh significance of the guitar solo sets the mood for the Erwachen epic saga, anticipating the vocals' intriguing drums and then rolling in unrestrained waves of musical drive topped with vocal phrases. The Knochenvater develops the musical motifs of the previous composition, weaving guitar riffs into a mid-tempo round dance. The final composition of the album Narrengott weaves musical melody and vocal severity, combining screaming and growling, in a mesmerizing dance.