November 26, 2019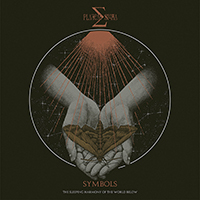 Thoughtful reflections of clean vocals alternate with gloomy fragments of severe growling. Variations of the Heterochromia vocals part determines the transformation of musical style and sets the atmosphere for sounding the songs of the Plateau Sigma - Symbols - The Sleeping Harmony of the World Below album. Sound of the Ouija and the Qvantvm song also slightly changes the musical image depending on changes in the vocal style, but more clearly and relentlessly follows the path of the main motive.
Starting with a thoughtful narrative, the A Parody of Medea composition then envelops the atmosphere of epic tales, creating a twilight haze of mysterious echoes of ancient legends. The trembling tunes of clean vocals add even more epic shades to the musical narrative. Then the vocals become hardened and the music acquires an even more exciting style, wrapping lace with twilight veils.
The muffled echoes of the musical sacrament are complemented by a vocal whisper combining male and female vocals. To Mnemosine's Bittersweet Fruit composition acts as an introduction to the next song The Moon Made Flesh, developing the motives embedded in it into a more complete musical artwork. The vocal part begins with thoughtful phrases of clean vocals, followed by a lengthy instrumental fragment, ending with the hardening of the vocals to growling and more saturated with musical power.
Vocals sets anxious feelings, full of bad forebodings to the The White Virgin song music. Then, preserving the style of clean vocals, rises in a series of emotional cries. She Kept the Sacred Fire Still vocal is hardened even more, but restrains its angry speech in the framework of a muffled growling. Then the vocal part changes in the saddened cry of clean vocals, continuing to further develop the structure of the composition in such alternations. Starting from the muffled notes of guitar busting, The Child and the Presence song completes the album, complementing and complementing the musical essence with new shades and stylistic additions.