November 12, 2020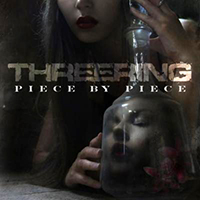 Rapidly and uncontrollably, the guitar solo soars with fierce impatience in the Children of a Dying Earth song's intro, then complemented by vocal reflections and doubts. The sequel of the Threering - Piece by Piece album combines doubts of vocal uncertainty and a musical symphony, enchanting with the unity of contrasting musical essences in a progressively regged No Reason ballad. The All We Really Are track continues the romance and symphony in the intro, then brings in the pulsating mid-tempo drive of the battle-marching guitar riffs, augmented by doubtful vocal reflections.
The title composition of the Piece by Piece album begins with pensive romanticism, then develops this musical essence in the mid-tempo unity of music and vocals. The Day That Never Comes continues the musical narration with a romantic ballad, diluting the vocals with female vocals, weaving male and female vocals in a mesmerizing duet. Slightly expanding the musical scope of album, the Dance of the Last Goodbye song changes the genre's essence of musical narration.
Continuing stylistic experiments the No One Walks Alone track combines romantic inspiration from different styles, genres and ages. The Hey You song continues the musical story with a soft and brooding ballad. The completion of the album further expands its stylistic framework, lifting the romantic inspiration of the Into Your Eyes composition with banners of epic charm.