August 04, 2020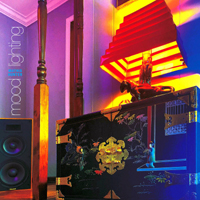 Slowly and thoughtfully the Clone It Off song is starting the sound of the Mathis Hunter - Mood Lighting album with the unhurried artistry of musical passages, entwining them with a bewitching lace of vocal reflections. The pulsating distortion of the guitar solo rolls over with a premonition of mystery, anticipating emotional vocal phrases that accentuate the Love Becomes song title in the echo of cosmic currents.
The title composition Mood Lighting weaves an artistic variety of guitar solos and vocal phrases that sound rebelliously outraged in a mesmerizing dance, then the Eazy acoustic romance brings calm and confidence, complementing the musical palette with impulses of electronic echoes. Walking with the jovial sound of a country festival, the Turning In brings dreaminess with vocal phrases.
The incredible serenity of the musical atmosphere of CE-2W song envelops with the influences of soothing relaxation. The Crimson Yellow walks on a leisurely stroll of a romantic ballad, complementing the sound with the echoes of the lounge. Following the acoustic chime of the guitar strings, the She Had Designs brings the musical atmosphere of the country style to the forefront of the musical image. The Don't Be Long concludes the album's musical narration with the soothing sound of a brooding ballad.