December 06, 2019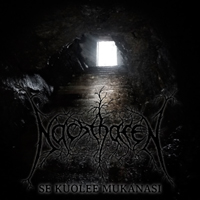 The majestic banners of the marching army flutter with bright uncontrollable whirlwinds, then the warlord inspires the procession with his own phrases. Then the Pimeyteen Katoavamusic rolls in cyclical waves, the harsh phrases of demonic growling supplements the vocals. The music transforms into a pulsating mid-tempo march, adorned with the melodious cries of a guitar solo.
The chime of guitar strings faintly enters the Kunnes Yo Ei Ole Enaa Vihollisesi as the continuation of the Nachthafen - Se Kuolee Mukanasi album, then the vocals are intertwined in progressive lace with broken guitar passages, introducing influences of oriental folklore.
Brightly and artistically continuing musical variations, Nakin Metsastajat expands the stylistic framework of the album, introducing trends of the epic melodic death of metal. Particularly fascinating is the interweaving in the mesmerizing dance of vocal tunes and guitar solo.
Vocals phrases comes to the forefront of the Surun varjot musical image, varying their appeals and echoing in a bewitching dance with changes in musical sound, especially charming with majestic guitar solos interwoven with clean vocals in a bewitching musical lace. Rhythmically, majestically and significantly Yon Satama finishes the album with a procession of an inspired anthem, intertwining screaming and growling in the vocal part and screaming with sparkling reflections of the banners of enchanting fairy tales and fascinating legends.