March 02, 2022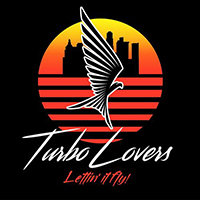 The Should've Known Better inspiring musical introduction weaves together with hopeful vocal proclamations in the true spirit of freedom-loving rock 'n' roll. The rhythmic Reasons That We Rhyme march continues the sound of the Turbo Lovers - Lettin' It Fly album with the energy and readiness for any challenge, announcing the necessary conditions to prepare for any confrontation.
After a rhythmic introduction, the Too Cocky song dances in unity of vocal and musical rhythm and sound. The bass guitar solo of the intro topped with the rebellious chime of the guitar riffs creates the leitmotif of the Lettin' It Fly title track, then supplemented by the corresponding and appropriate vocals chants.
The vocal inspiration comes to the forefront of the Gave Me A Sign song, assertively and confidently achieving its goals in the verse for the sake of ascension in the chorus. The intro guitar solo transforms into the leitmotif of the Almost Great track, then topped with vocals inspiration and embellishments of the guitar solo echoes.
The spirit of true rock'n'roll takes over the musical reins of the Finally Home song, taking the listener to the return of young dreams. The Under Pressure composition retains the stylistic features of the previous composition, but transforms them in a more rhythmic and jagged sound with restraint of rapidity of musical passages. The Rockers Extraordinaire final song of the album is unrestrained and relentless in its pursuit of its goals.