May 12, 2022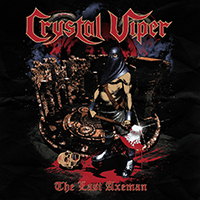 The guitar solo of the intro unfolds the flywheel of the main motif of the title track of the Crystal Viper - The Last Axeman (EP) release, then running ahead with rapid music and emotional vocals.
Rhythmically, assertively and vainly, the musical passages of the In The Haunted Chapel composition march in a stubborn rhythmic procession, raising vocal phrases to the crests of the ox of the musical stream and stealing the musical image with a bright guitar solo of the instrumental part.
A further fragment of this musical artwork is an echo of various branches of heavy metal music - a reinterpretation of the song so beloved in the Soviet Union, Ulitsa Roz (Aria cover), then an energetic drive and the sound of the It's Electric (Diamond Head cover) composition full of fun and joy.
Further, the sound of the album draws attention to the studio work, beginning with the rebellious and freedom-loving pressure of the The Cult (Live in the Studio) song. The soft and melodic sound of the guitar solo of the introduction suggests the development of a romantic ballad, but the music and vocals raise the bright banners of the Arsenath Waite (Live in the Studio) epic heroic saga. The rhythmic, sonorous and exciting march Whispers From Beyond (Live in the Studio) glorifies the confident procession of the valiant detachment, imprinting its step on the chosen path, completing the sound of the album with the glorification of the unity of bardic songs and musical drive in the sound of the Flaring Madness (Live in the Studio) final composition.