September 07, 2021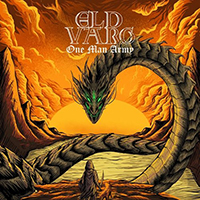 Instrumental intro And So It Begins...begins the musical narration of the Eld Varg - One Man Army album, pointing to its militianess and the epichny nature of the musical stylist. The To The Beyond composition complements the musical variety of vocal emotionality. Toughly, powerfully and rhythmically driven by the sound of the main motive, the Vulcan's Hammer song combines musical power with vocal epic.
Rhythmicly mischieving medium-month march, the Fists of Steel composition significantly expands the stylistic framework of the album The Wolfpack battle march is marching as confident, stubborn and clear procession. Rhythmic, tight and rigid, accession sets the rhythmic essence of the sound of the Iron Cobra composition. The Wastelands begins with bass guitar solo, that is defining the path of development of the main motive for the dominance of vocal emotionality. The Thunders of Mount Doom is being built by the swift of the rapid drive, irresistiblely chasing the lightning speed, most embodied in the bright solo of the instrumental part.
The Satan's Minions brief phrase acts as entry into the final composition of the album Between the Moon and Stars, which sounds as a separate artwork due its length and variability.