August 15, 2019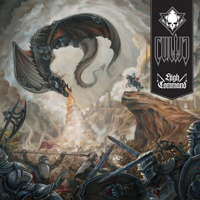 The clanging of swords, the neighing of horses, the noise of battle preceded by the gloomy haze of musical narration, viscously and painfully unfolding in the harsh waves around The Conqueror vocals phrases. Cruel Orders continues the Cultic - High Command album, painfully and stubbornly compressing the pace of the musical narration to a viscous and slow rhythmic march, the vocals part, like a pensive lord, leisurely and stubbornly drives its instructions into the minds of subordinates and servants.
Accenting rhythm and clarity, the canvas of the main motive rolls out an intriguing dusk, raising the banner of the name of the False Idols song in the chorus. Returning to the origins of the work, the group continues the musical narration of the album with the title track of its previous demo The Prowler, darkly and gloomily enveloping vocal phrases with dark vortices of guitar passages.
Bringing the vocal part to the front edge of the musical image Forest of Knives sums up the results of each musical beat with a pulsating musical twilight. A fierce musical narration, somewhat accelerating the pace and density of the drive of the gloomy march Dark Rider, creates an introduction in the introduction of a more epic foundation for the further development of the composition, varying the twilight whisper of the warlock with the severe growling of a black knight.
Intriguing for a long time with an instrumental introduction, Enchained finishes the album with stretched and burdensome sadness, enveloping vocal phrases with the twilight haze of a dark anthem.