September 18, 2019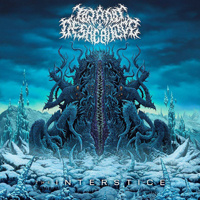 A mysterious intriguing atmosphere with spicy echoes of oriental folk motifs begins the Brand Of Sacrifice - The Interstice album, after a short guitar solo intertwining in a deadly dance with harsh vocal phrases, alternating and intertwining screaming and growling in a duet, preceding the final part of the Eclipse composition with obscure children's choirs.
The viscous and tight introduction of Millenium song ends with an alternation of pulsating musical marches, explosions of a pulsating drive and epic tunes of enchanting melody, complemented by harsh phrases of deep growling, shaded by emotional phrases of screaming. This bewitching melody rises in the image of the composition, combined with dense and viscous musical phrases in which vocals and music compresses and concentrates their sound. In instrumental bridges, musical passages weave enchanting lace of epic melody.
The mystical mystery of the keyboard symphony of intro is interrupted by the pulsating procession of the Crimson dark anthem, transformed by a progressive lace of instrumental passages in bridges.
The final composition of the album Conviction (Single Version) retains the same atmosphere of epic pulsation, alternating phrases of screaming and growling in a medium-tempo musical narrative that inspires grandeur and significance.