September 19, 2021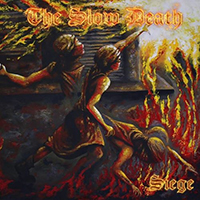 Gloomy, painfully and in the twilight atmosphere of the coming trials of the Tyranny composition's intro reveals musical gates of the The Slow Death (AUS) - Siege album. The music is leisurely, long and thoughtfully joins, removing a sorrows in front of the entrance of vocals, then alternating epic enemy singing ladies and a gloomy demonic growling of a male vocals.
Twilight romanticism of guitar entry then retreats in front of the gloomy procession of a harsh male growling vocals, which complements the chime of bells, rewarding memory and honor to the departed from this terrible disease and Famine. But then the opera chants of a singing lady give the sound of the composition of light rays of hope in combination with symphonic melodies of musical variations.
Continuing the subject of the terrible atmosphere of medieval Pestilence in the cities of the cities and castles, squeezes the musical pace to even more dense and creepy. Although, in view of the incredible duration of this musical saga, it presents many transformations of the musical essence - the song seems to be a separate musical creation in the musical essence of the album.
Completing the album, the Ascent of the Flames composition gives it an extension of readiness for the coming battles and gives some shades of combat valor.